Akbar manor – Ready to move in 3 bhk apartments in the prime location,
The Apartment complex is close to Manyatha Tech park ( 1 km away )
The BBMP park is situated close to the Apartmen complex which also houses an open air gym ( 200 meters away)
The Apartment complex is their in a well developed neighborhood like super markets, schools, colleges, grocery stores ( 300 meters away )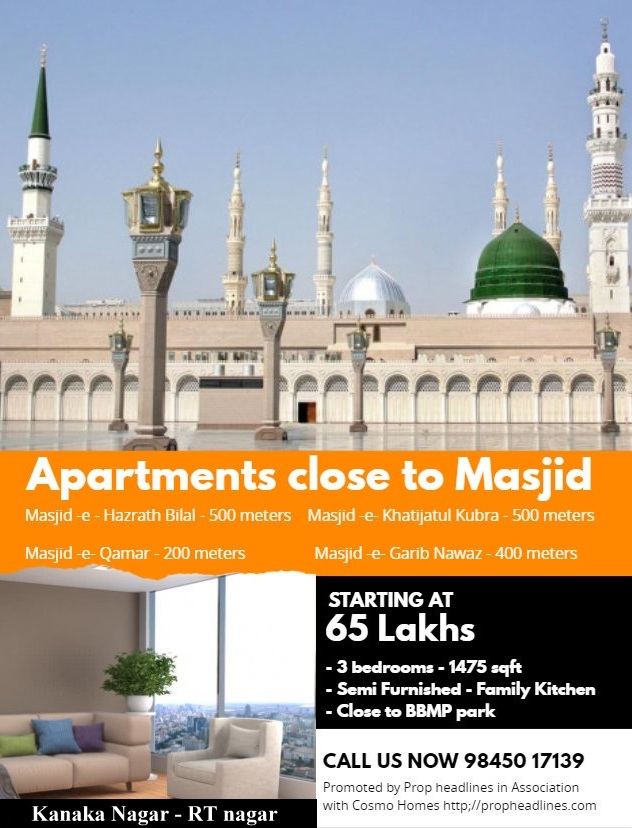 This apartment complex is well connected through public transport
BMTC Bus stop of bus no 415 is just 250 meters

BMTC Bus stop of Nagenhalli bus close to MM medicals ( 500 meters away )
The Apartments complex has only 8 flats in a Ground + 3 Structure, with each floor accommodating 2 flats
The Stilt level has Car parking, the Apartment has lif and power backing to the common areas
The Apartment complex is well connected and situated between many Masjids and Khanqahs
Masjid -e- Hazrath Bilal – 500 meters
Masjid – e- Qamar – 200 meters
Masjid -e- Khatijatul kubra – 500 meters
Masjid -e- Garib Nawaz – 350 meters
Masjid -e- Khaif – 600 meters
Khanqah -e- Zikar – 1.2 km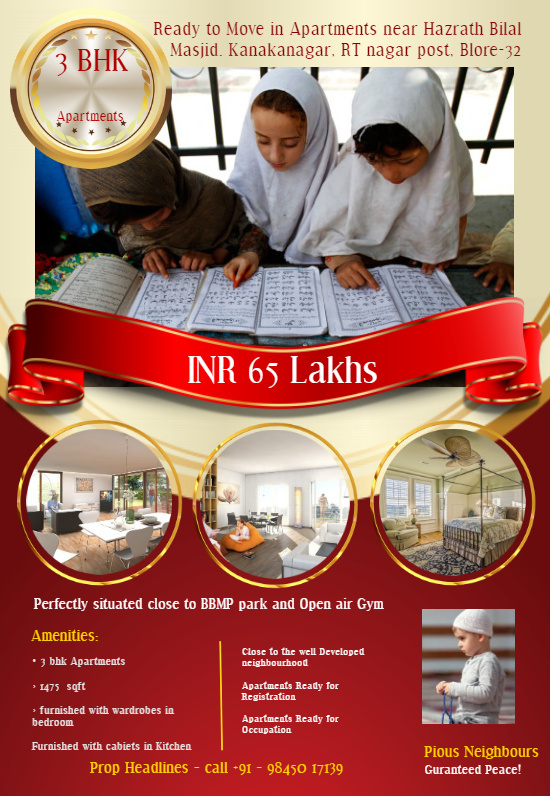 About RT nagar
Rabindranath Tagore Nagar or simply R. T. Nagar is an area in Bangalore, India. It is situated in the northern part of the city. It is named after Rabindranath Tagore. It is part of the Bangalore North Lok Sabha Constituency and the Hebbal Assembly Constituency. R.T Nagar has two blocks, Block I and Block II. It has become very popular after the construction of the new airport at Devanahalli (Kempegowda International Airport)
Originally a tiny layout built by Bangalore Development Authority (BDA) in the 1970s and was surrounded by villages like Gangenhalli on the west, the military campus on the east, Matadahalli by south and parts of Hebbal village by north. But close proximity to other high-profile areas like Sadashivnagar and Dollar's colony (SanjayNagar) led to rapid development of RT Nagar. Also setting up of a Head post office on RT Nagar main road provided further impetus to the growth of RT Nagar.it is one of the posh areas in Bangalore.
Over the last few years RT Nagar has come to commonly represent many areas like MLA Layout, Gangenhalli (Ganganagar),Dinnur, SultanPalya, Kanakanagar,Manoranpalya and even Kavalabyrasandra simply because these areas fall under the RT Nagar head post office ( with Pin code 560032) jurisdiction. Even today a lot of businesses in these areas actually show "RT Nagar post" as an address line item.
Like our Facebook page https://www.facebook.com/propheadlines/
For More updated Real estate news on Projects Book mark http://propheadlines.com/
For Site Visit and other details of Akbar manor call 080 – 42110 448 / 080 – 4212 4147 / + 91-9845017139 / +91-9845044734 / + 91-9845064533
** Price quoted on the Flat is all inclusive and Exclusive of Registration and Government taxes, Price is valid only till 10th April 2019, post that is subject to change