Shriram Greenfield Overview
Shriram Greenfield is an oasis of calm and peace, right within the chaotic city limits of Bengaluru. Located at Budigere cross, off old Madras Road, this spacious project covers a total land extent of 19.5 acres. With a total number of 1645 apartment units and 9 ingeniously designed blocks, Greenfield showcases 2BHK, 2+ study and 3 BHK apartments. Each residential unit has been designed by international experts and engineered with excellence with a built up area ranging from 928 sq ft to 1330 sq ft. The project includes all the basic amenities of a gated community and more. Some of the options include, children's play area, senior citizen's park, landscaped gardens, a swimming pool, jogging track, maze garden, club, library, amphitheatre, hall, gym, crèche, CC TVs, provision for convenience stores and gaming facilities like basket ball court, skating post, tennis court, volleyball court, indoor badminton court, table tennis and billiards. Aesthetically designed, the project also has soothing recreation zones which allow one to relax in a world of tranquillity and serene surrounding. Shriram Greenfield is easily accessible through the Old Madras four-lane-road leading to Hoskote, which is a connecting road to all major IT hubs in the City. It is also close to of Baldwin International School, an educative and prominent school.
Shriram Greenfield  : THE APARTMENT
The 19.5 acres project, Shriram Greenfield has 1,700 apartments of 2, 2.5 and 3 BHK configurations in 9 towers of G+19 floors. Each apartment has a built up area ranging from 928 sq ft to 1330 sq ft. Not only are the plans are drawn up by internationally acclaimed experts, each unit is built with utmost care and attention to quality and detail. The project features laminated wooden flooring in master bedroom, high grade vitrified flooring in the rest of the dwelling with superior quality ceramic flooring in utility and toilets. An open kitchen with a classy granite platform, Jaguar or EQ fittings, full length French door-glazed windows in the living room and master bedroom, grills for the windows…each aspect is considered and wherever possible, the absolute best provision has been included in every unit.
Shriram Greenfield Exclusivity
A Lot Closer to life
Goodbye to Whitefeild ever-moving traffic. Welcome to Greenfield's easy paced life. Leave the concrete building of Whitefeild behind. Come home to Greenfield's lush green expenses. Say goodbye to clouds of exhaust in Whitefeild. Say hello to a fresh breath of life in Greenfield.
Take the Walk into the Twilight zone
Its time to stop viewing just glimpses of the sunset peeking out from behind neighbouring buildings. When you have your own private sunset point at Greenfield.
Bangalore`s Most Desirable district
Welcome to a lifestyle where 19.75 acres of apartments are lavishly built around a project of 60 acres. The most sought-after address in Bangalore with great desirable attractions that'll be the envy of an city dweller. Sip your coffee in the outdoor Cafe' at the woods. Or spend your evenings gazing at panoramic views in the Sunset Blvd. Or party the night away with the star at Starlight Ave. It's time you came home to a lifestyle designed to be at the very heart of life.
Party with the stars untill day break
Just across the meadows in Greenfield. The pubs and nightclubs can wait. The best nightlife in Bangalore also means simply spending a night gazing at a brilliant and starry sky.
Great warm escape with your family
Inspiring spaces designed to uplift your spirits every time you come back home. So you can just curl up in your favourite corner and gift yourself some private time.
Coffee smiles and never ending conversations
Forget coffee during last-minute morning gateway or the boring brew at office. Enjoy amazing conversations over coffee while relaxing under the trees in Greenfield.
Unwind for a Brighter tomorrow
Inspiring spaces designed to uplift your spirits every time you come back home. So you can just curl up in your favourite corner and gift yourself some private time.
Relax even if you dont have time for it
Lovely greenery and landscape designed to invoke peace in your mind, body and soul. Where stress take wings and flies away when you find delight in doing nothing.
Shriram Greenfield – Amenities
Children play area
One of the most important aspects of childhood is playing, gift your child a safe place to play and enjoy the thrill of swinging, climbing, sliding and just running around in a vehicle-free zone rather than in a building basement amid parked vehicles.
Landscaped garden
A well maintained garden of flowering trees, verdant green grass, attractive fountains and neatly trimmed shrubs; a landscaped garden not only improves the aesthetics of the surroundings, it also gives you space to relax in lush green ambience.
Swimming pool
Chill out in a well maintained pool and get your daily workout with a few laps around the pool. With the convenience of a pool at your doorstep, you can indulge in a workout or just chill whenever you want.
Basketball court
Re-live you athletic days in college and have a friendly match with your peers at the courts. With a proper basketball court just waiting to be used, you need not plan a great deal to indulge in a fun filled match.
Skating post
Highly popular amongst teens and kids, skating is the next best thing to cycling. For skating a smooth expansive surface is the primary requirement and that's just what this skating post provides, a safe arena to learn or perfect the art of skating.
Jogging path
Maintain a healthy lifestyle with a bit of jogging in the company of like-minded health enthusiasts. Go for an early morning, late evening or even night run on the well maintained track in the midst of the complex.
Tennis court
A good workout and a great game is what tennis all about. Be it one-on-one or a good game of doubles; indulge in a weekly or even daily game of tennis at the courts, all within the complex. Maintain your physique with tennis.
Open Amphi theatre
Providing space for the residents to express their creativity or get together for a nice movie. Song, dance, drama; set the stage and encourage originality to blossom at the open amphitheatre in Shriram Greenfields.
Water Cascade
Water is calming, and it also makes the environs around a few degrees cooler, hence waterfalls are generally popular. Adding to the cool ambience and creating a lovely backdrop we have a cascading waterfall that adds to the serenity of Shriram Greenfields.
Maze Garden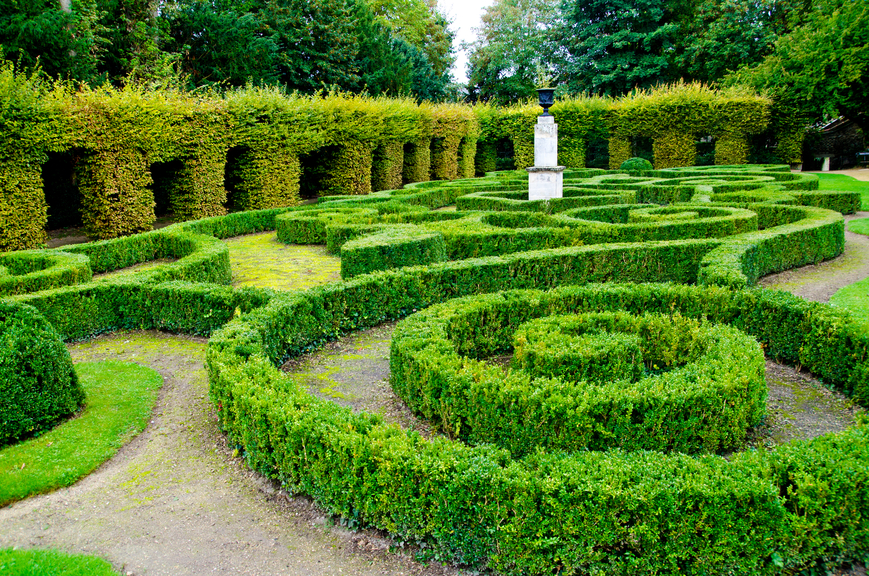 Green and fun, that's what a maze garden is all about! Get lost in a sea of greenery and work your way out in our maze. A green maze garden adds to the greenery and also adds to the beauty of the surroundings.
Volleyball Court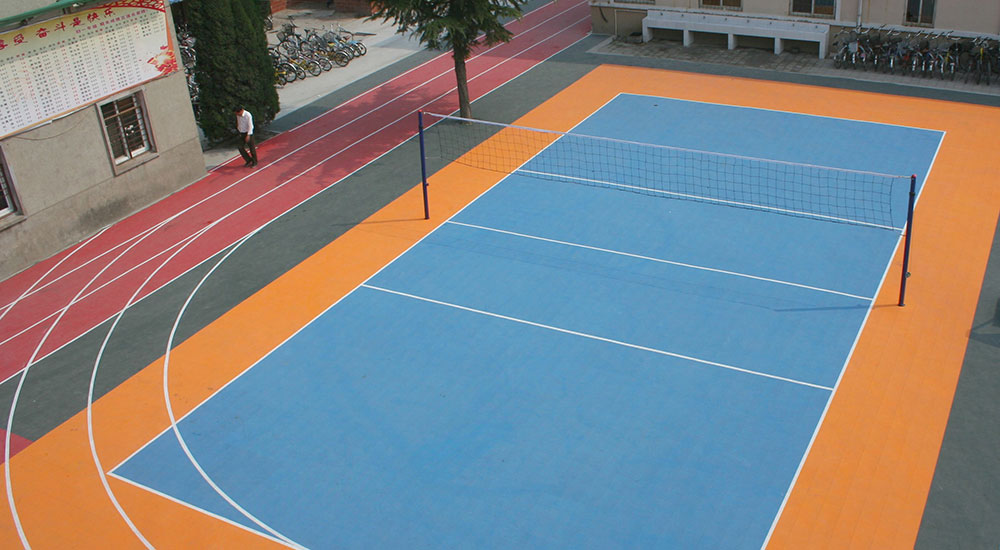 If basketball is not your game, then rustle up a team and have a vigorous game of volleyball. A great team sport, volleyball makes working up a sweat a great deal of fun! Reconnect with your inner sportsperson and have a great game.
Senior citizen park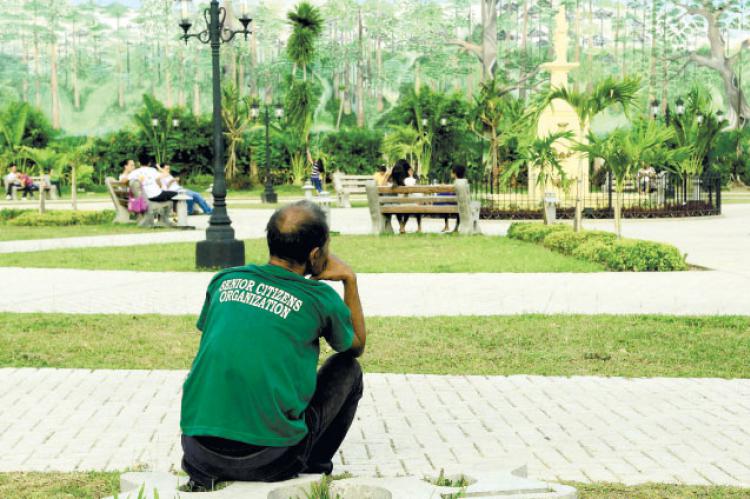 Away from the ruckus of the boisterous games and safe from vehicles, running children, skating enthusiasts or even cyclists, we have created a safe haven for the elderly who can enjoy a bit of green, good company and fresh air.
Club House
Socialise with your co-residents in the club. A great way to meet and spend quality time with your neighbours, the clubhouse allows for a common place to meet, eat and greet! Relax and chill out in the plush ambience of the clubhouse.
Library
For the bookworm in the family, we have even provided a library. A nice place to relax in the company of authors and their imagination or study for the next big test, a library is a nice quiet zone for serious readers.
Creche
Working moms are a common phenomenon and having a crèche in the neighbourhood of your residence is the next best thing to having someone at home for your kid. Work tension-free and leave your young children in the care of good hands.
Wifi connectivity
In this day and age of getting everything done online, Wifi is not a luxury but a necessity for most households. Taking care of that basic need, Shriram Greenfields provides Wifi connectivity to all units ensuring that you are online all the time.
CCTV
Security is one of the primary advantages in a gated community. In addition to security at the gates, we have round the clock surveillance on all the happenings in the complex with CCTVs installed in all key areas.
Provision for Convienience store
For all the odds and ends, groceries, emergency supplies and daily needs we have a created a convenience store area. Get all your basic shopping done at your doorstep without having to drive all the way out to the nearest mall or retailer.
Table Tennis
Childhood days of bouncing the ball off the dining table to playing a proper game on a professional table tennis table… we have ensured that you can indulge in a nice game of table tennis at our indoor table tennis arena.
Indoor Badmiton court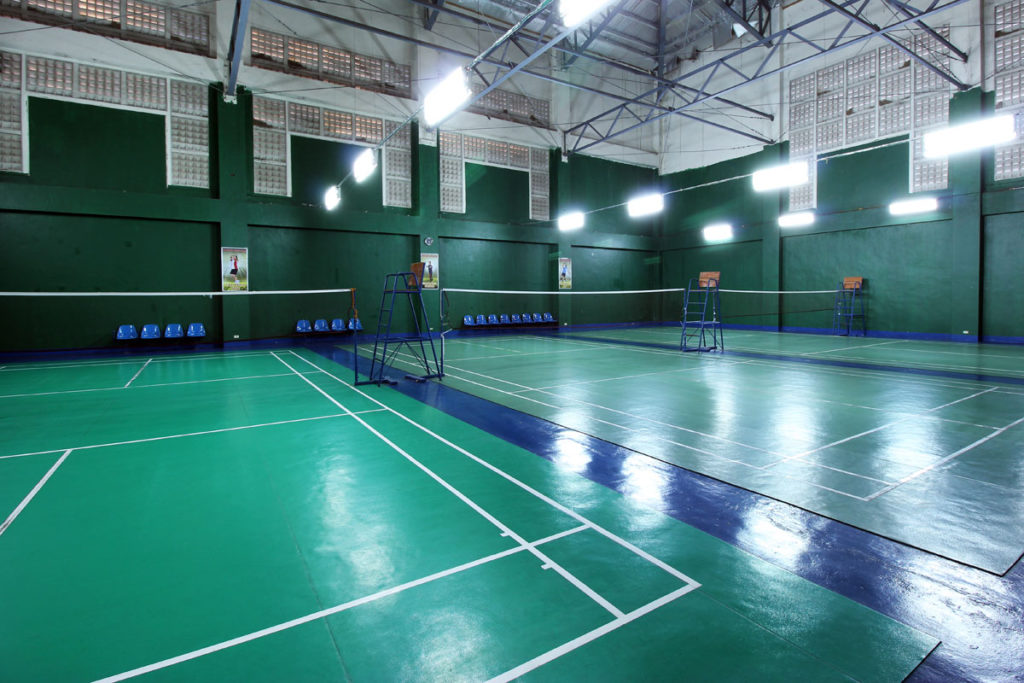 Remember playing badminton across a string tied to represent the net; well instead we have created nice shaded indoor court for badminton enthusiasts. A proper net and well marked boundaries; get into a great game of badminton in our indoor badminton court.
Community hall
Celebrations, birthdays or a nice get-together, plan a grand social event and leave the worry of booking the space to us… with a nice community hall in the vicinity of your residence itself, planning a social event becomes so much easier!
Steam and Sauna
We take rejuvenation and relaxation seriously in all aspects, hence a steaming room and sauna is but a small provision that we have included to ensure just that. Sweat it out and rejuvenate yourself in the sauna at Shriram Greenfields.
Meditation room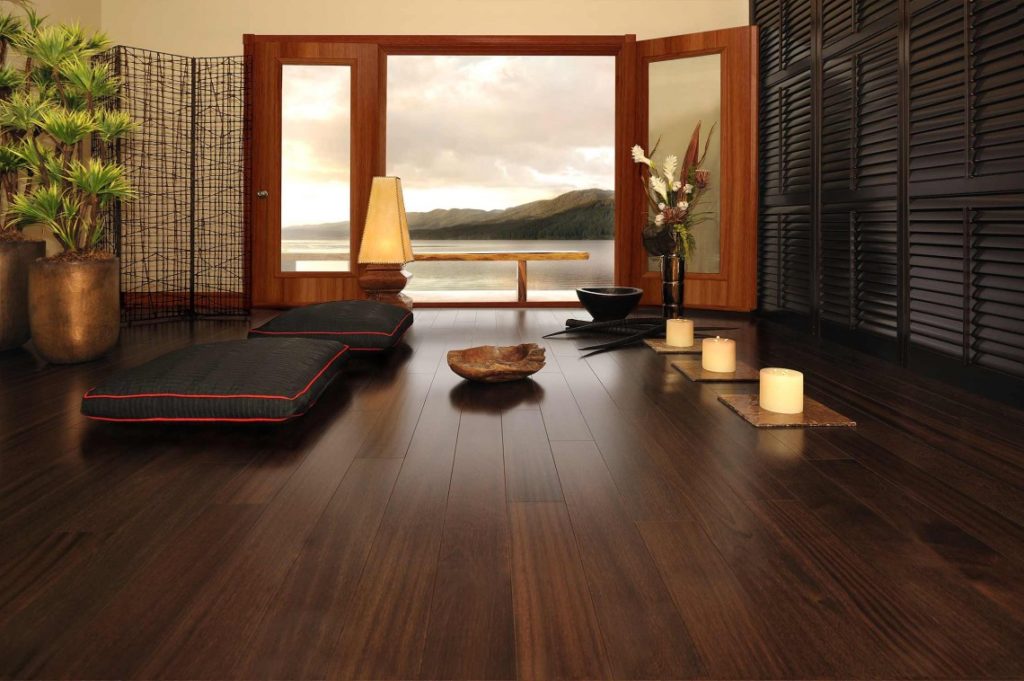 Calm and peaceful, we even have a meditation room where all likeminded people can get in touch with their spiritual self. Meditate and calm the inner turmoil in the peace and quiet of the meditation room.
Gym
Get your daily workout in our well-equipped gym. Be it jogging on the treadmill or pushing your body to its limits with weights, recharge in the gym without having to traverse across the city. Plus with the gym so close home, you can hit the gym be it rain or sunshine.
Billiards
Play with sticks and balls! No, its not cricket but an equally fun, though less strenuous and way more sophisticated, game of billiards. With all the equipment on hand, challenge your opponent in a friendly match and hone your skills.
Mini theatre
For all the movie buffs we have also added a mini theatre. Watch a good movie with family and friends on a nice big screen without stepping out of the complex. For a change, walk to the theatre instead of driving to it!
Specifications – Shriram Greenfield
Structure
External wall – 160mm thick RCC walls.
Internal wall – 160mm thick RCC walls.
Staircase & lift walls – 160/200mm thick RCC walls.
Flooring
Foyer, Living, Dining & Bedrooms Superior quality vitrified tiles.
Master Bedroom – Laminated wooden flooring.
Master Bedroom – Laminated wooden flooring.
Toilet – Superior quality anti-skid ceramic tiles.
Kitchen dado up to 2'0 Height & up to sill level in utility superior quality ceramic tiles.
Toilet wall dado up to false ceiling superior quality ceramic tiles.
Utility – Superior quality anti-skid ceramic tiles.
Balcony – Superior quality anti-skid ceramic tiles.
Corridor/Passage – Granite- 20mm thick.
Staircase – Basement to 2nd floor- Granite; Upper floors- Tandor or Epoxy coated or ceramic tiles.
Kitchen
Granite(Black) – 30mm.
Toilets
Granite counter -20mm thick false ceiling- PVC or Eq.
Sinks
Kitchen – SS Double bowl with single drink board(DBSD).
Utility – SS Single bowl without drain board.
Sink – Long body/angularcock for aquagaurd.
Toilet_fittings
Fittings and fixtures – Standard CP fittings.
Bath mixer – 2 in 1 wall mixer with overhead shower.
Sanitary
EWC – Floor mounted coupled closet.
WHB – Counter wash basin.
Doors
Entrance – Teak wood frame, factory made BST shutter with ornamental beading.
Others – Endor/Corbett- wood composite doors.
Windows
French door cum window – Living/Family/MBR balcony- UPVC.
Door cum window in kitchen(between kitchen & utility/as per drawing).
Ventilators – UPVC.
Wall_finishing
Internal – OBD paint for internal walls and ceilings & common areas.
External – Texture paint.
Entrance door – Polish.
Fabrication works – Synthetic Enamel.
Electrical
Light/fan/socket as per drawing.
AC point – Master bedroom.
TV & telephone points – All bedrooms & living/dining area.
Geyser point – All toilets except common toilet.
Others
Water Pipeline
Sanitary PVC, SWR.
Lift Cladding
combination of vitrified tiles & Granite.
Master plan 
Floor Plans at Shriram Greenfield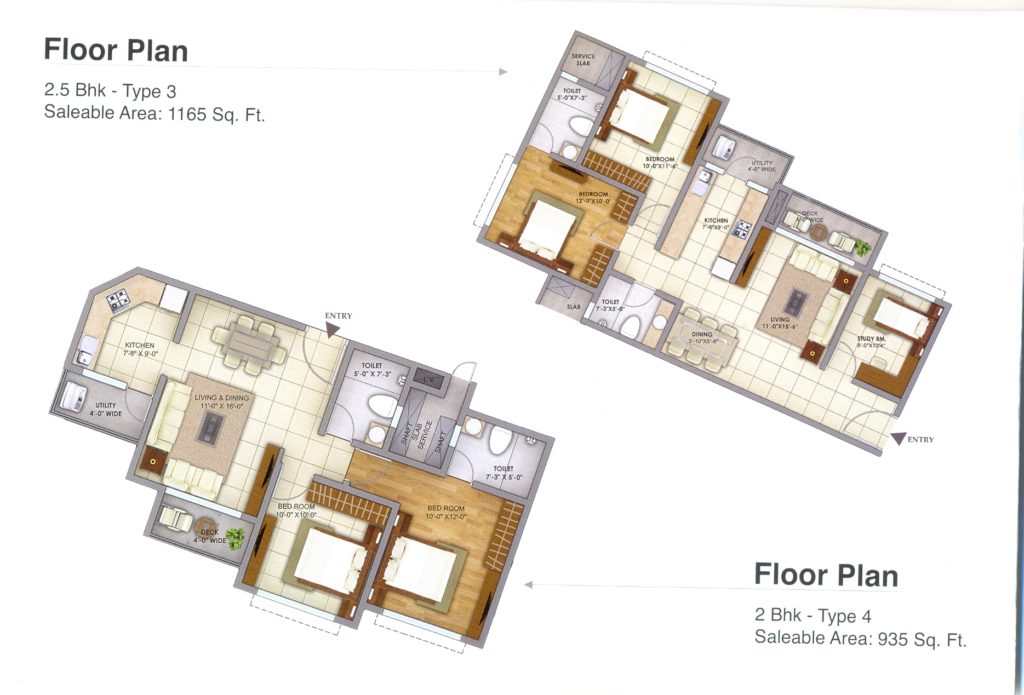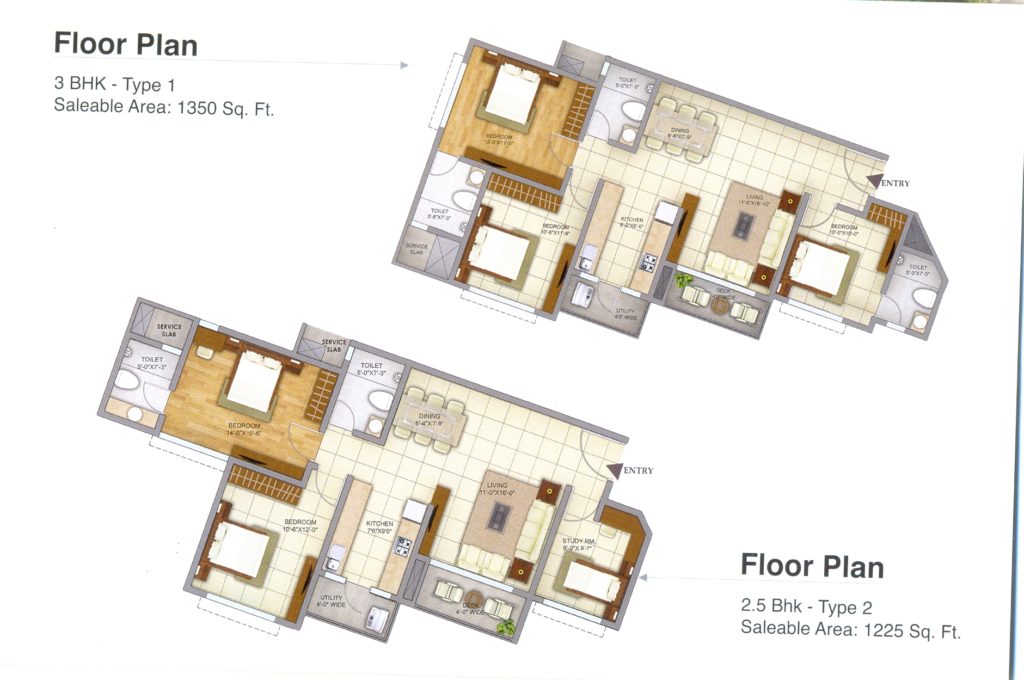 Why is Shriram Greenfield #Right4U?
Right Location
Located perfectly in Bangalore's burgeoning IT hub of Whitefield
Investment hotspot between Whitefield & Airport corridor
One of Bangalore's most desired locations
Right Product
A 40-acre mini city with a 5 acre club.
Smart sizes from 935-1350 sq ft
An oasis of calm and peace in the city
Senior citizen park, amphitheater
Right Price
Unbeatable value starting Rs. 3840 per sq ft
2 BHK apartments from Rs. 40 lakhs
3 BHK apartments starting from Rs. 56.8 lakhs
Right Time
Pay 10% now
& rest on possession
Apartments Possession
Phase 1 & 2 – Dec 2017
Phase 3 – Mid 2019
Shriram Greenfield – Location Map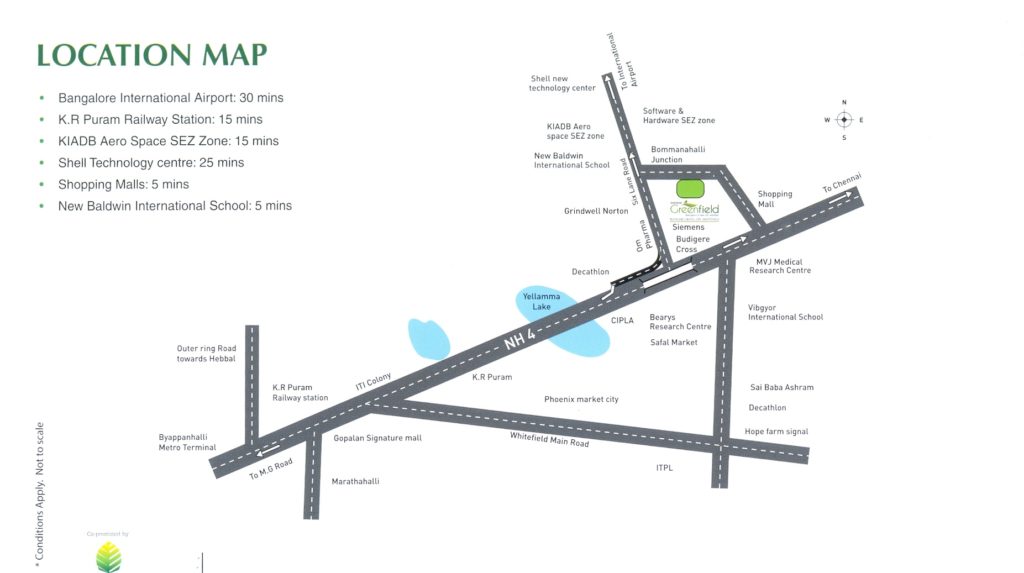 Contact Details of Shriram Greenfields
Budigere cross, off Old Madras road
Bangalore – 562129
Phone : 080 – 42110448
Mobile : +91-9845017139
Mobile : +91-9845064533
Email: news@propheadlines.com
For Details Analysis of the Projects and Updated real estate news of Bangalore Log on to http://propheadlines.com/