OVERVIEW : Godrej Properties presents Godrej Avenues at Yelahanka, Bengaluru with 1, 2, 2.5 and 3 BHK homes that keep you happy every day. Located on the Yelahanka-Doddaballapur Main Road, the 10 majestic towers spread over 5.3 acres with a Sky Lounge set at 45.72 meters you experience the high life right at your doorstep. At Godrej Avenues, come home to a world of happiness every day.
LIVE THE LANDMARK at Godrej Avenues
Spacious 1 BHK, 2 BHK, 2.5 BHK and 3 BHK Homes
Sprawling 6096 sq. mt. Clubhouse
3-tier Security Features and Work from Home Facilities
Excellent Connectivity
Sky Lounge at 45.72 metres with World-Class Amenities
Vastu-Compliant Homes
LOCATION of Godrej Avenues: Godrej Avenues is strategically situated at Yelahanka offering excellent connectivity to every hub in Bengaluru including Hebbal, Manyata Tech Park, Whitefield, Malleshwaram, and the Outer Ring Road.
Yelahanka Railway Station – 15 Minute
Hebbal Railway Station – 25 Minute
International Airport – 35 Minute
Specifications at Godrej Avenues
Structure Type of Structure : Mivan
Your home is built with the help of a Mivan structure system, a technology which uses aluminium framework and reinforced concrete. This ensures high durability, minimal leakages and low maintenance cost
Flooring :
Living/Dining and Other Bedrooms : Vitrified tiles
Carefully handpicked flooring tiles add aesthetic beauty to your living space. Vitrified tiles are chosen for the living and dining room as they are easy to maintain, durable and better performing compared to other flooring material.
Master Bedroom : Wooden laminate : The master bedroom is elegantly crafted with wooden laminate flooring, a relatively new invention that is popular in the world of flooring surface because of its aesthetic value, durability and ease in maintenance.
Toilets, Balconies and Utility : Anti Skid Ceramic tiles : Areas prone to wet surface are paved with anti-skid ceramic tiles to prevent injuries caused by slips, trips and falls.
Kitchen : Ceramic tiles :Relish every minute of your time cooking for your loved ones. Environment-friendly ceramic tiles are used in the kitchen to ensure easy and quick cleaning. These tiles are antistatic in nature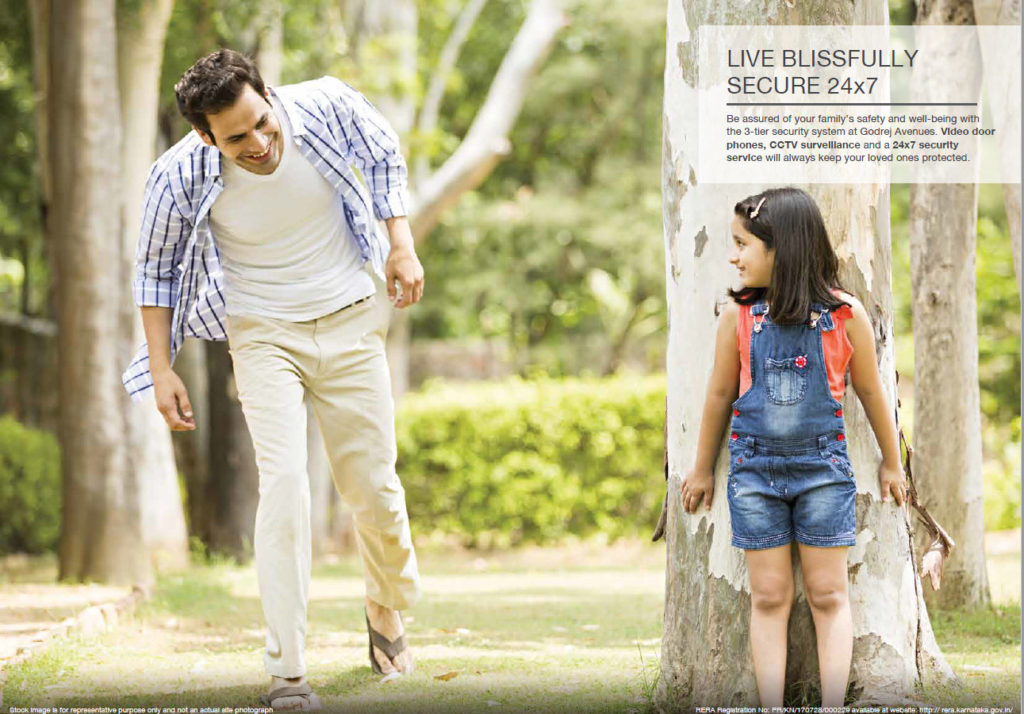 Doors : 
Main Door : Teak Frame with hardwood flush shutter with teak veneer two side polish, The main door is made of teak, understanding that it is known to last almost a lifetime across climates. High oil and rubber content gives it weatherproof qualities. Teak requires no preservatives or paint. Above all, it is renewable and an eco-friendly resource.
Internal Doors : Wooden door frame with flush door shutter : Every internal door is made of wood, a natural insulator of heat. Unlike metal doors, wood requires less maintenance and is rust-proof.
Windows Aluminium : Aluminum windows with track for mesh : Aluminium windows and doors contribute to thermal and sound insulation which meets current building regulations. Unlike many other windows and doors, they will not swell, crack, split or warp over time.
Wall and Ceiling : Paint : OBD The matte finish oil-based distem per p aint is an environment-friendly paint which does not have any hazardous elements in its composition.
Kitchen and Utility : Kitchen Counter and Sink Provision : Granite counter with SS sink The kitchen is adorned with a natural product to give it a timeless aura and appeal. Granite is a heat resistant material which makes an apt cook-top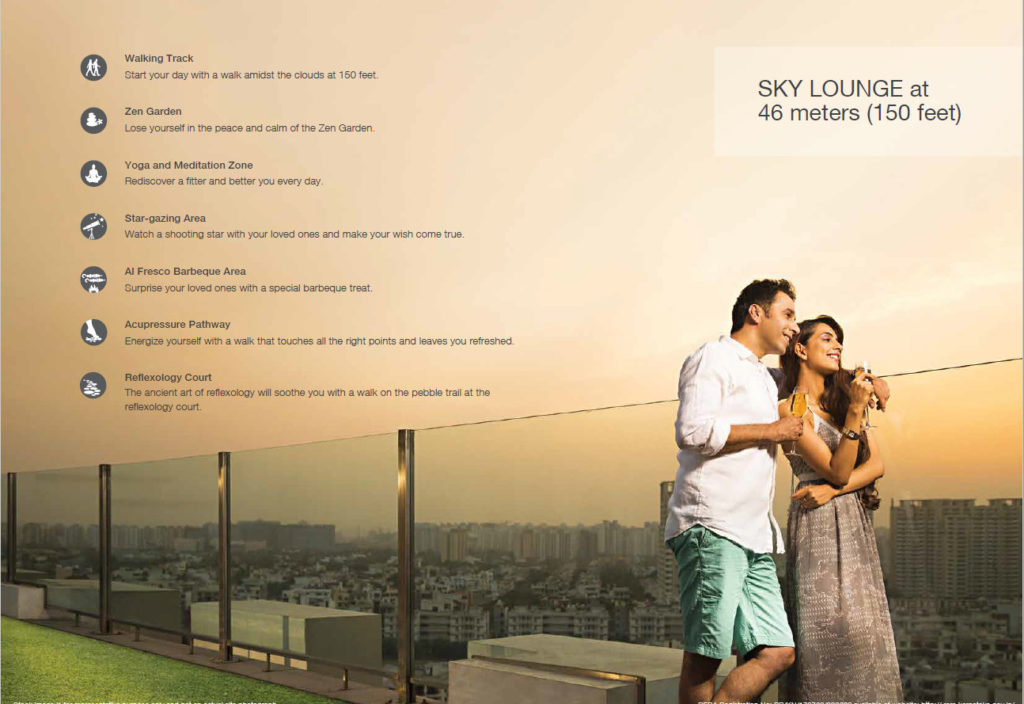 Toilet : CP Sanitary Brand/ Selection : Hindware/Jaquar or equivalent Beautiful designs that inspire are chosen for your bathing suites which compliment your lifestyle.
Power : Power allotted to Flat : 1 BHK-2.5 kW, 2 BHK-3 kW, 3 BHK-4 kW Adequate power is supplied as per standard requirement.
Balcony Railings : Railing MS railing : A time-tested material used for ages in construction and an easy to maintain material that is just as aesthetically appealing, all railings are made of durable and strong, mild steel
Car parking Type : Open/Covered Covered car park Every apartment is alloted a covered car park positioned in the basement.
Power Backup : DG backup to Flat Enjoy uninterrupted power supply at any point of time. Adequate power backup is supplied which is rich enough power to light up your house
Reticulated Piped : Piped Gas Reticulated piped gas system A convenient and cost-effective value-adding feature for uninterrupted supply of cooking gas direct to the hot plates.
Amenities at Godrej Avenues
SKY LOUNGE
Walking Trail : The meandering tree lined trail is a pleasant way to connect with nature and adapt to a novel and enriched lifestyle.
Zen Garden : A few simple and natural elements are combined to create a tranquil and symbolic garden, called 'karesansui" in Japanese. This garden is made up of two elements: the sand and rocks.
It gives an opportunity to lose oneself in a serene ambiance, perfect for meditation, thus enhancing your quality of life.
Yoga/Meditation Zone : A zone which offers space to develop your whole self.
Star-gazing Area : A peaceful and quiet area which allows you to appreciate the twinkling celestial bodies that adorn the sky.
Barbeque Area with Seating : A space designed to bring together family and friends giving you ample time to build relationships.
Acupressure Pathway : This is a simple yet very effective therapy for healthy living.
Reflexology Court : This space has been delineated with flooring material and special features which help you relax and stay fit.
Socializing Area with Hammocks : In a community, it is essential to connect with neighbours. This area will allow to infuse a sense of collectiveness where kids and grown ups can spend time with each other.
HEALTH AND FITNESS
Jogging/Walking/Cycling track : An early morning walk/jog on the 500 meter long multi-purpose track will give you an opportunity to maintain a healthy lifestyle and stay fresh the entire day.
Pharmacy, Clinic/Tele-medicine : Easy access to basic medical facilities is available at your convenience. We have tied up with Apollo Tele-medicine and Apollo Pharmacy to cater to all your medical needs.
WORK FRIENDLY
Video Conferencing in Clubhouse : These features allow you to connect to your workplace from home. It gives you an opportunity to stay close to family without compromising on your work commitments.
Wi-fi enabled Homes*
Excellent Road Access : Spend abundant time with your loved ones by reducing your travel time. The project location offers easy access to nearby IT parks and other important hubs of the city.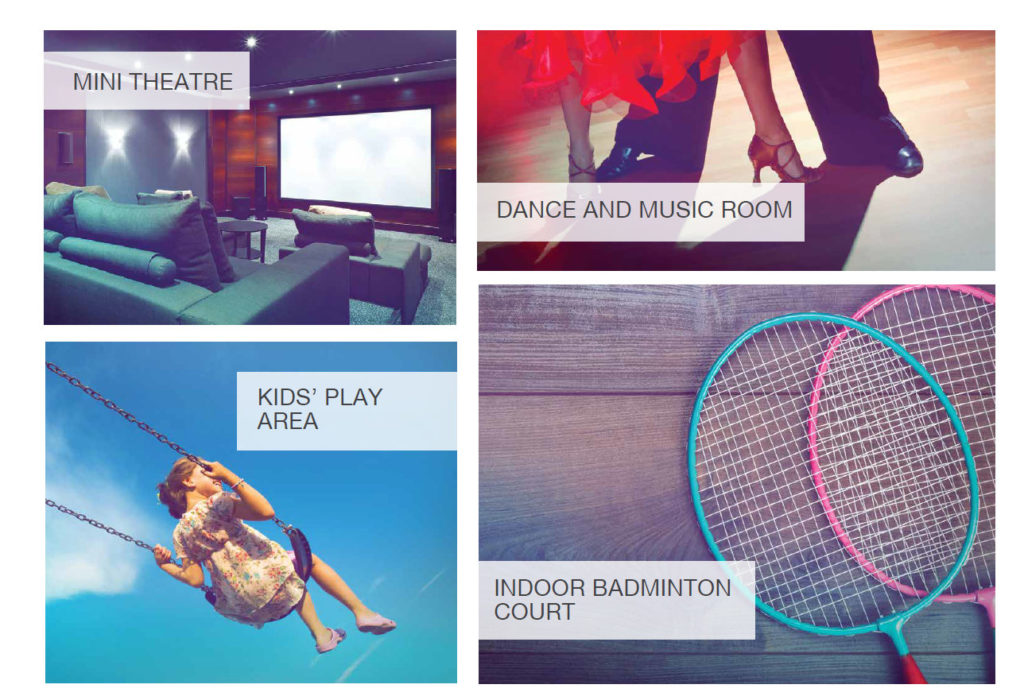 EXTENSIVE SPORTS FACILITIES
Golf Putting : Use your time to learn or practise a game of golf or cricket. These facilities will help sharpen your skills on the sports field. Your kids can kindle their passion for one of the most loved sports in India
Cricket Pitch : with coaching from one of the best cricket academies in South India – Just Cricket.
Swimming Pool : A 16×7 meter swimming pool will cool you down in the summer months. Your kids can learn to swim in the pool specifically designed for children. The presence of a deck next to the pool gives you
space for a pool party with family and friends.
Indoor Badminton Court, Pool table, Cards/Carrom/Checkers/Chess : Enjoy these sports and gaming facilities housed in a clubhouse of approximately 20,000 sq.ft. Each amenity has a dedicated space which ensures there is something of interest for each member of
Foos Ball the family.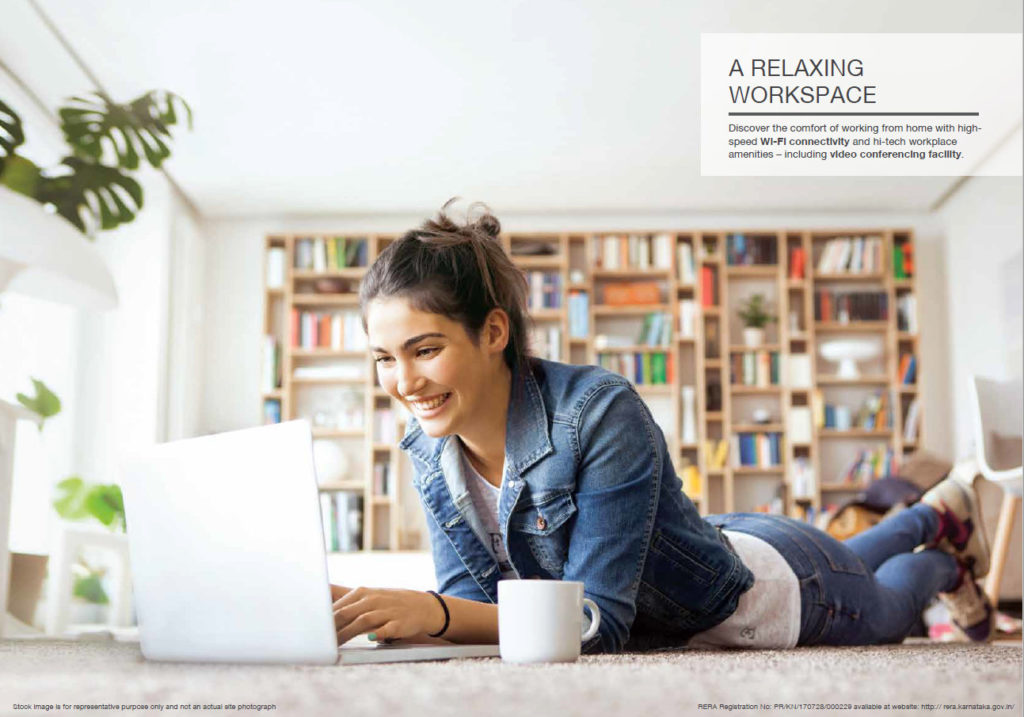 FAMILY SAFETY : 24×7 security : Video Door Phones Ensure your family's safety with 3-tier secuirty features in your home. Your happiness is built in living secure 24×7.
Flexible spaces have been created to ensure multi-usage of every facility space
Minitheatre/Classroom : Spend time during the weekend watching your favourite movie on the big screen. The minitheatre has been built with features that allow you to use this space as a learning avenue as well.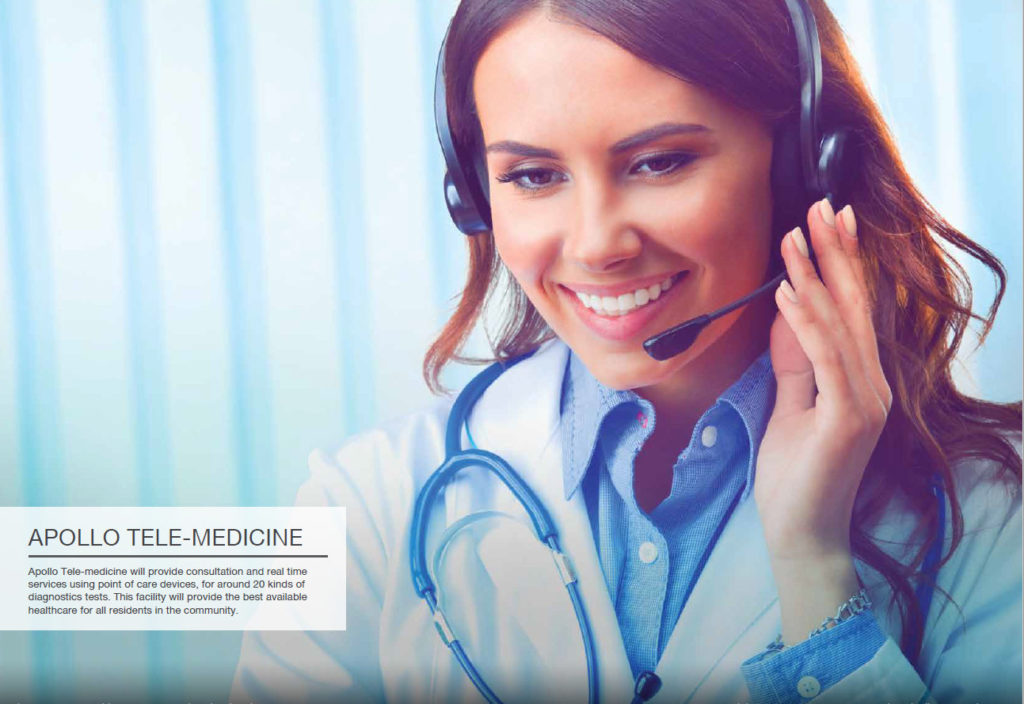 Dance/Music Room : Your kids can pursue their passion for music and dance in this room. We have associated with Eardrums, to provide your kids with a platform to learn new musical instruments.
Conference Room : This space can be used to organise meetings and other official gatherings within the community.
Baking Room : If you have a passion for baking this is a space designed especially for you.
Library/Reading Room : Make the best use of this space by reading novels of your choice. We have partnered with JustBooks to support and equip the library with a large collection of books for all ages.
Convenience Store : All your basic needs are easily accessible with the presence of a convenience store. We have tied up with Nilgiri's to ensure all your daily supplies are available without a hassle.
Location Map of Godrej Avenues
Detailed AV Presentation of Godrej Avenues is available at https://youtu.be/NvlMcUGcXTw
For Site visit and other details call 080 – 42110 448 / + 91 – 9845017139 / + 91 – 9845064533 / + 91 – 9845044734 
For Latest Real estate news Log on to http://propheadlines.com