Ultimate Signature a BBMP approved 2 & 3 BHK residential apartment is located at ISRO Layout off Harohalli -Nagenahalli Main Road, Yelahanka.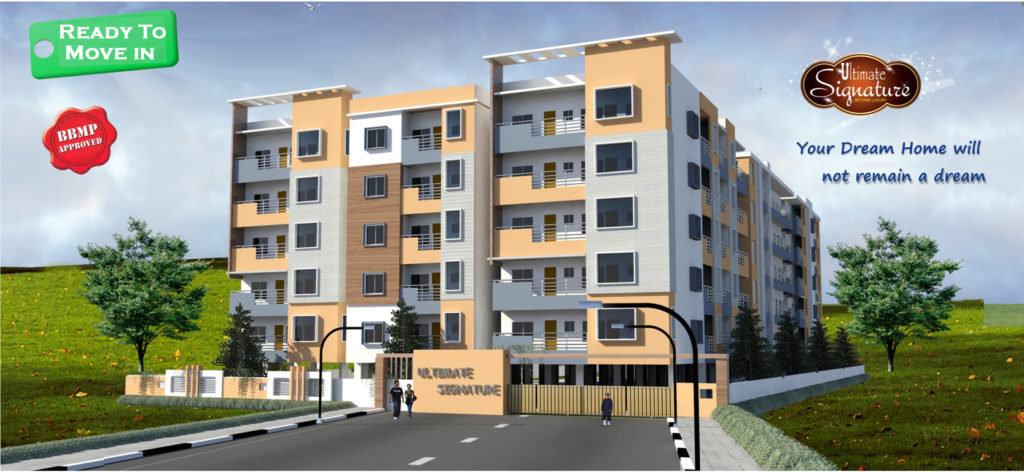 The apartment has close proximity to many well known amenities /services like IT Companies, Educational Institutions, hospitals, hotels & shopping centres, making it preferable option to own a home.

"Ultimate Signature" Three block apartment of 5 floors, with 85 units, has built up area ranging from 990 Sq.ft. to 1485 Sq.ft. The skillful and crafty teamwork of Architects, Structural Engineers, landscape architects and best Construction Team ensures a quality construction for your dream home.

We believe there are no boundaries for quality. That's why our constant pursuit is to achieve uncompromising standards in what we deliver. From quality of material and quality of finish to architectural design and added values-every detail has been given the highest care.

Including vaastu Compliance. So when you walk into Ultimate Signature at Isro Layout off Harohalli-Nagenahalli Main Road, Yelahanka. North Bangalore, you will be judge. You do the inspection. And admittedly, you'll end pleasantly surprised with all your discoveries.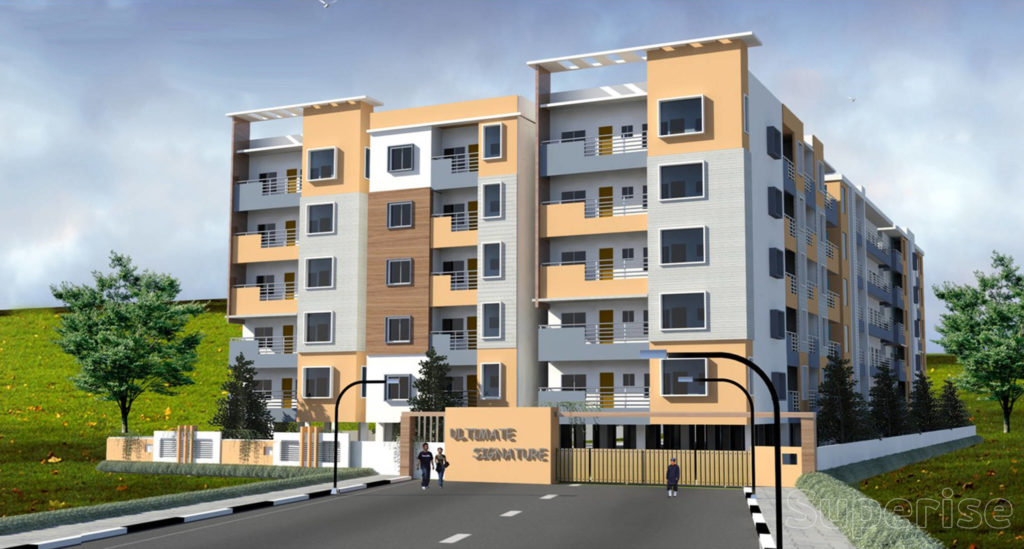 Amenities at Ultimate Signature
Children Play area
Fitness Gym
Swimming Pool
Family Sit Outs
Multipurpose Hall
Intercom facility
24hrs Security
24hrs Power Backup
Rain water Harvesting
Floor Plans at Ultimate Signature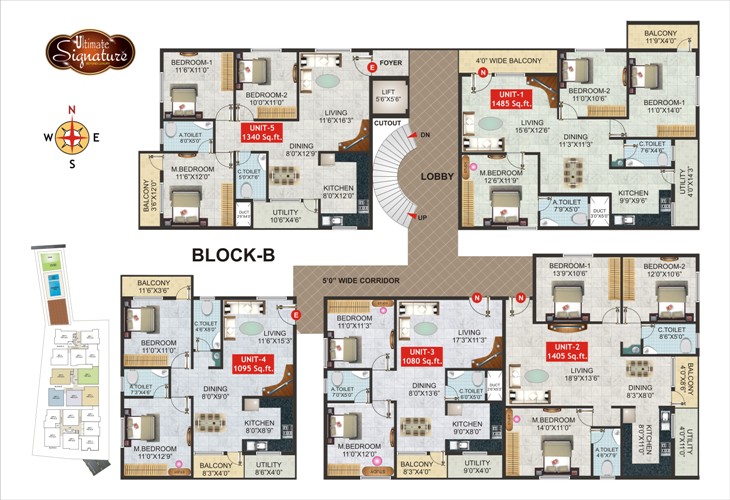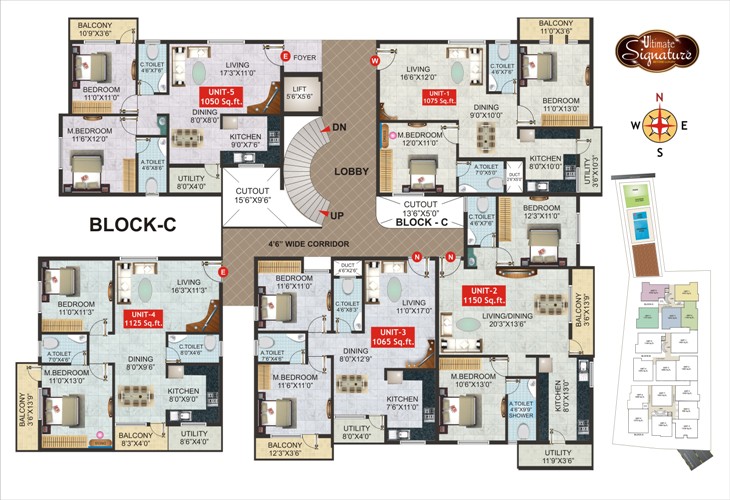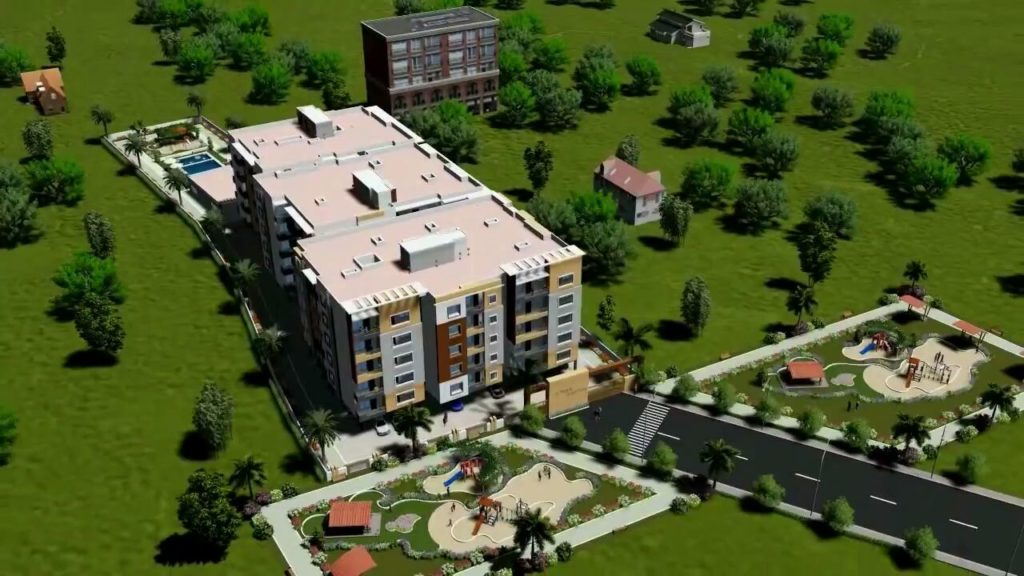 Floor plans of the Project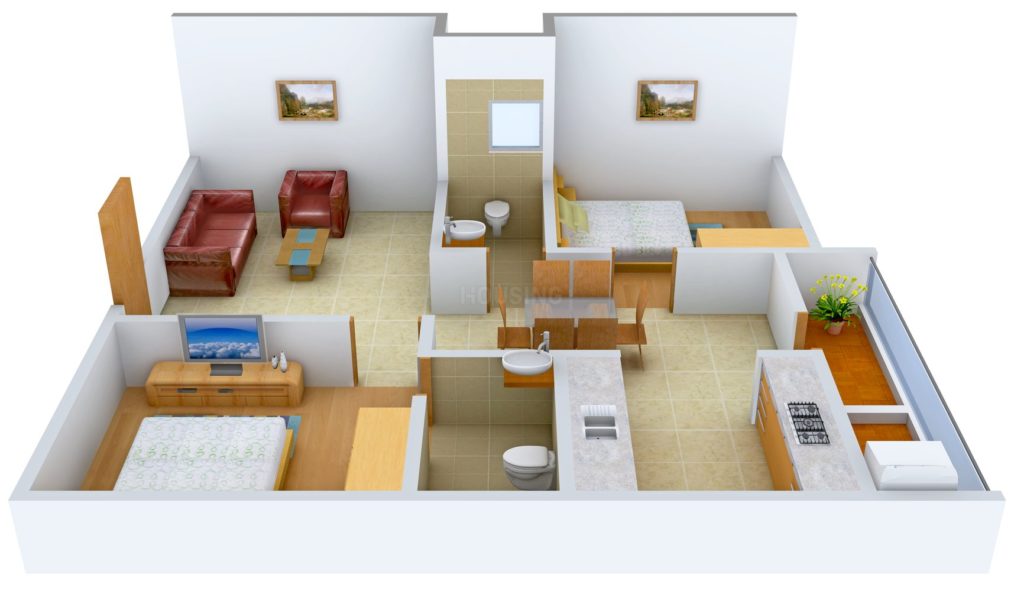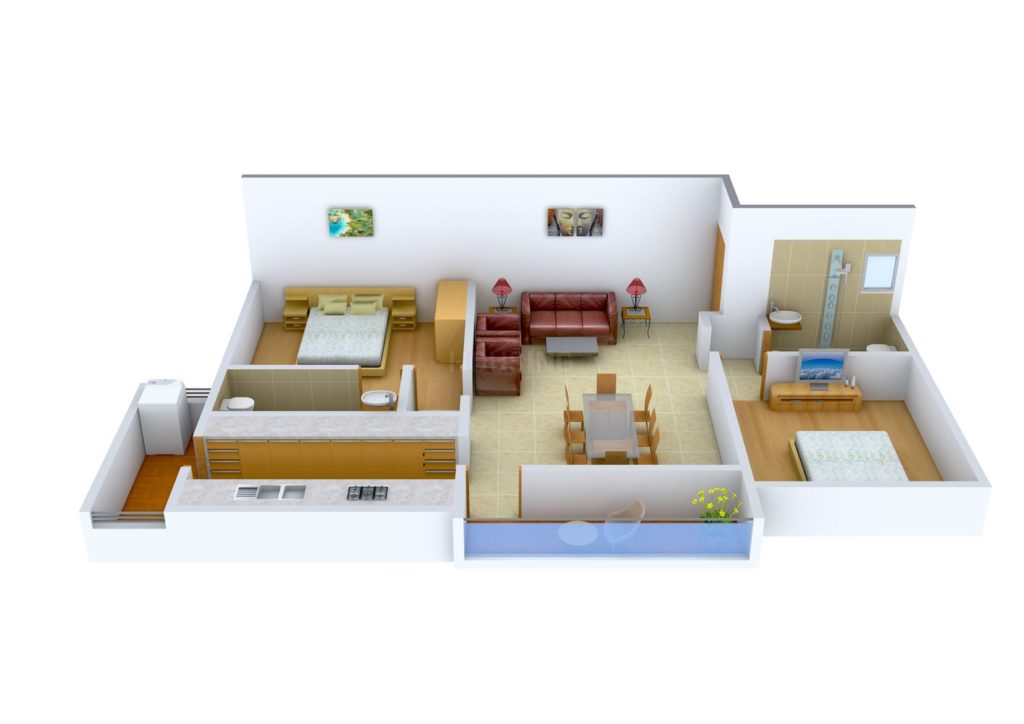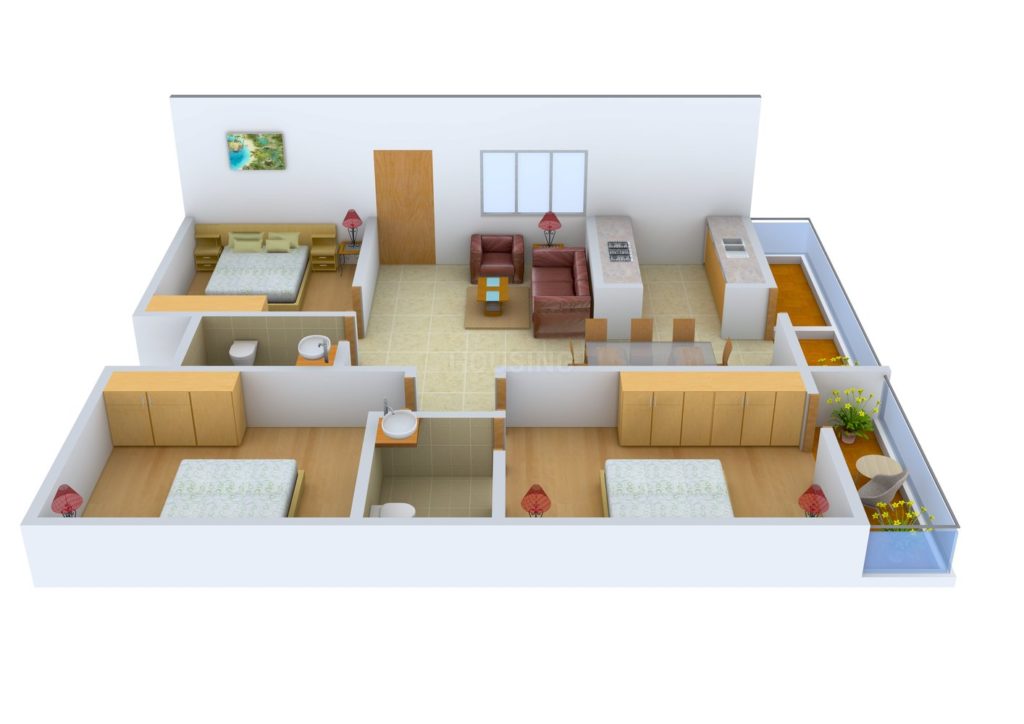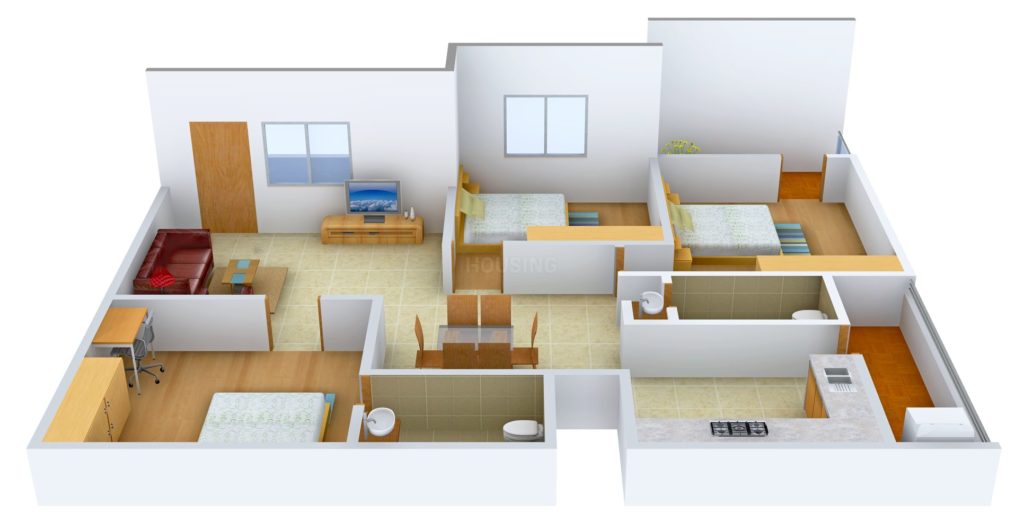 Specifications of the Project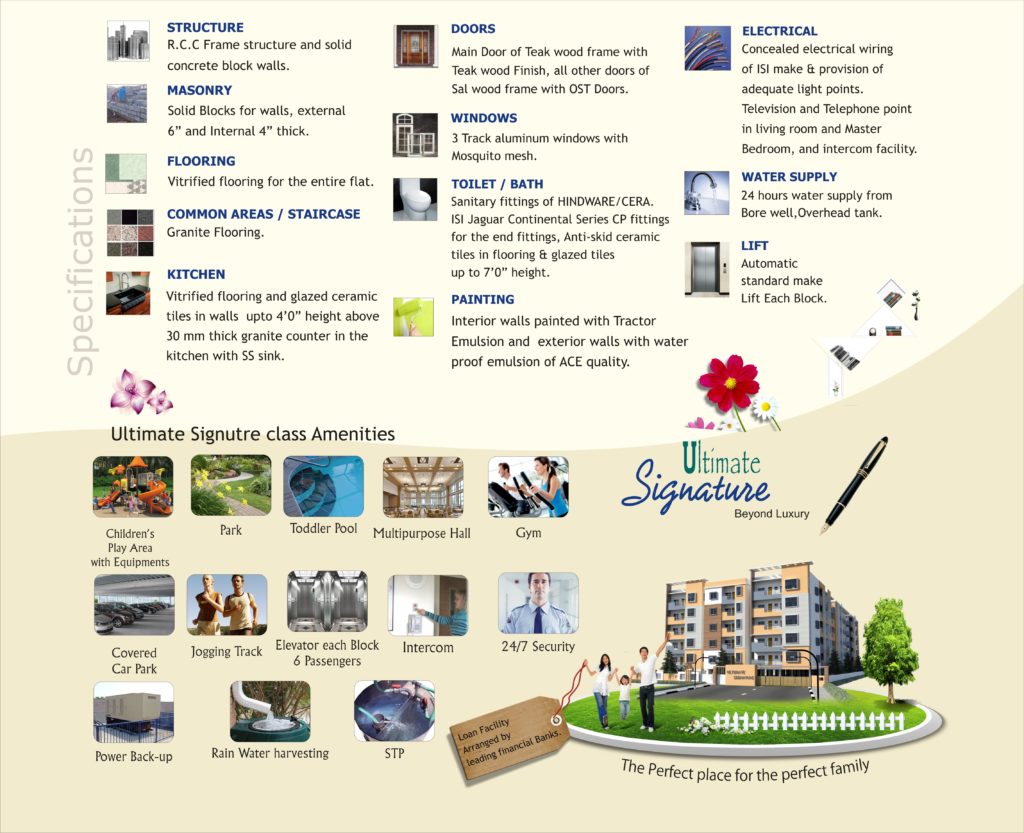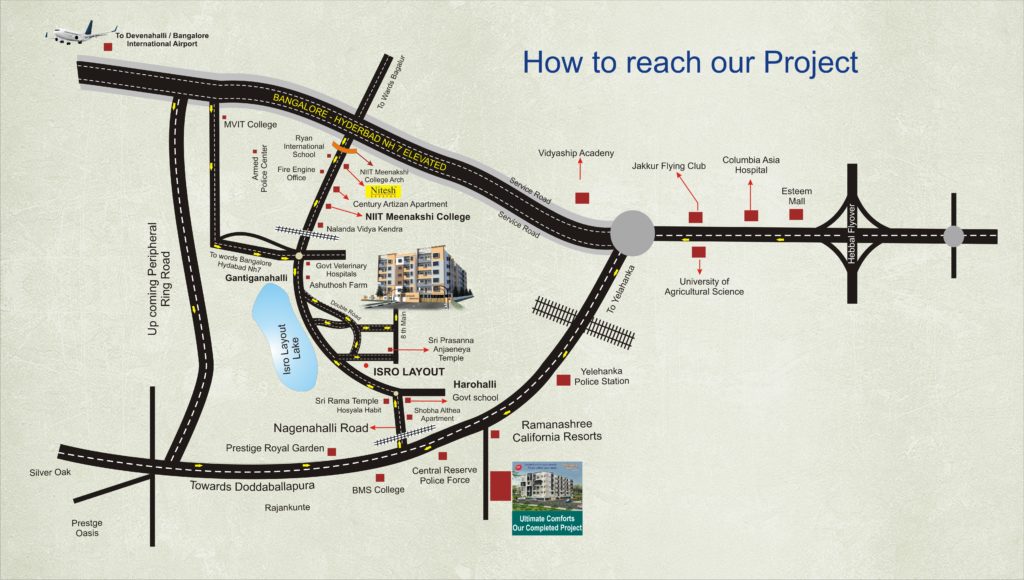 Yelahanka – Locality Information
Yelahanka lies to the north of Bengaluru. It was a Municipal council and Taluk (lies below the District level in administrative setup) headquarters prior to formation of BBMP (a metro corporation annexing the original Bangalore area and its suburbs) and now forms a part of greater Bengaluru. A well planned township was developed during early 1980s to the south of the city by Karnataka Housing Board and is identified by several names like 'Yelahanka Upanagara', 'Yelahanka Satellite Town', 'Yelahanka New Town' or simply 'Housing Board'.
National Highway NH7 passes through Yelahanka and newly constructed NH7 passes through the north eastern fringes of Yelahanka, acting as a bypass road to avoid the Yelahanka suburb. State Highway 9 (Bangalore – Hindupur) passing in the south of Yelahanka bisects the suburb into Old Town and New Town. Yelahanka's business areas are Hospital Main Road and BB road in Yelahanka and in New Town are 16th 'B' Cross and Mother Dairy cross and Yelahanka 4th phase.
Yelahanka has several lakes surrounding it, adjoining: Old Yelahanka, Puttenhalli, Attur, Ananthapura and Allalasandra. The lake at Puttenahalli (3 km up the SH 9) has been declared a bird sanctuary. Most of these are either dry or are in bad condition due to emptying of untreated sewerage effluents into them.
Yelahanka is on the verge of being the prime real estate hub in North Bengaluru owing to its vast undeveloped areas and easy access to the Kempegowda International Airport. Yelahanka has seen remarkable developments since its inception. It was once known to be a town which did not exist on the maps of Bengaluru.
Yelahanka has an excellent connectivity be it road, rail and air. The road network to Yelahanka is one of the best in entire Bangalore. Yelahanka railway station is one of the oldest stations setup in Bangalore area and has railway lines connecting KR Puram and Bayappanahalli in the east and Yeshwanthpur in the northwest. If these tracks are improved and daily city passenger trains introduce, a big part of traffic congestion will be eased as more people will use trains. Since the tracks are already existing, it is better to use the existing infrastructure rather than investing in new activities like Metro. Kempegowda International Airport is located off Yelahanka.
Educational Institutes close to Ultimate Signature Project – Yelahanka
There are many schools and colleges in Yelahanka,
Schools in Yelahanka include
WHITE PETALS SCHOOL (Yelahanka 4th phase),
Brite English school[Currently Brite Educational Institution],
Agragami Vidya Kendra,
Delhi Public School,
Canadian International School,
Bhavan's, Bhuvan Institutions,
Nagarjuna Vidyanikethan,
Kendriya Vidyalaya RWF & CRPF,
Seshadripuram Public School,
Poornaprajna Education Centre,
National Public School,
Chrysalis High,
Presidency School,
NewAge World School,
Bharath English High School,
Cambridge School,
MEC public school,
Yelahanaka Government School,
Jnana Jyothi School and Goodwill English High School,
The Japanese Weekend School of Bangalore (バンガロール日本人補習授業校 Bangarōru Nihonjin Hoshū Jugyō Kō), a Japanese weekend educational programme, serves Japanese nationals living in Bangalore. It holds its classes in the Canadian International School.
There are many technical education institutions in and around Yelahanka. Some of the prominent engineering colleges in the vicinity are
Sir M. Visvesvaraya Institute of Technology,
BMS Institute of Technology,
Bhuvan Polytechnic,
Brindavan College of Engineering,
Nitte Meenakshi Institute of Technology,
Sai Vidya Institute of Technology,
Reva Institute of Technology and Management,
HKBK College of Engineering and Sri Venkateshwara College of Engineering, Bangalore.
VIBGYOR, a brand name in quality education, has come up with its 20th branch in Yelahanka.
New Age World School is an ICSE curriculum school is located in Mylappanahalli, Yelahanka.
Srishti Institute of Art, Design & Technology, one of India's premier art and design institutes, has six campuses across Yelahanka New Town.
WHITE PETALS SCHOOL5 is located in 4th Phase Yelahanka, has one of the best pre-school campus in North Bangalore and has been awarded as "Best Upcoming School" by Education Today. WPS caters from Pre-Nursery to Grade-5, follows International standards CCC- Child Centric Curriculum.
Like our Facebook page https://www.facebook.com/propheadlines/
For More updated Real estate news on Projects Book mark http://propheadlines.com/
For Site Visit and other details call 080 – 42110 448 / 080 – 4212 4147 / + 91-9845017139 / +91-9845044734 / + 91-9845064533