Nandihills – A true relaxation from the pace of the city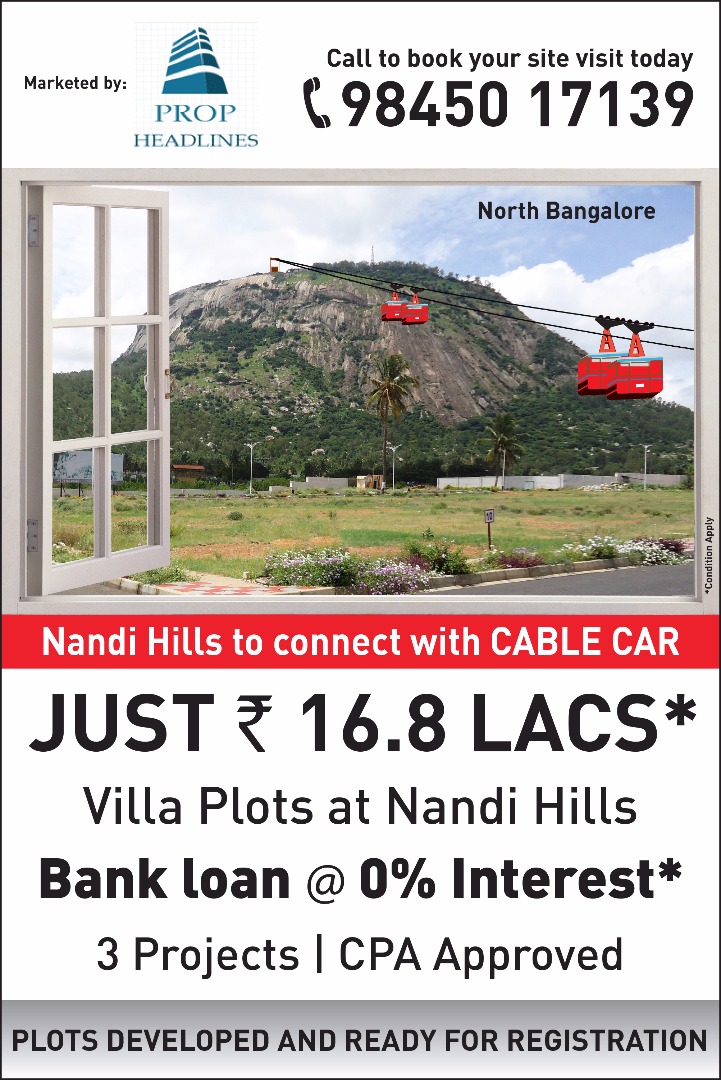 Plotted development at foot hills of Skandagiri hills
Lush green area, great mountains, its biggest asset which is beyond description. One should actually see to experience the nature's architecture. Skandagiri County plotted development is a Green, beautiful and Calm place
This project offers different beauty in different seasons. In summer and winter, when there are no clouds, view of the hills is a real pleasure. And in rainy season. a number of waterfalls running down from top of the hills on the chest of black rocks…Covered by lush green carpet. Surrounded by a shawl of mist, casts magic on you.
Skandagiri, also known as Kalavara Durga, is an ancient mountain fortress located near to Bangalore city, and 3 km from Chikballapur in the Indian state of Karnataka. It is off Bellary Road (NH 7 Hyderabad-Bangalore Highway), and overlooks Nandi Hills, Muddenahalli, and Kanivenarayanapura. The peak is at an altitude of about 1350 meters.
Highlights
Skandagiri county Phase I – Development on 9 acres with 166 plots.
Skandagiri county Phase II – Development on 3.05 acres with 60 plots.
Plot dimension – 1200,1500 Sq.ft and other dimensions.
In the midst of Nandi Hills range.
Adjacent to Sri Sathya Sai Educational Institution.
Master Plan 
Location Map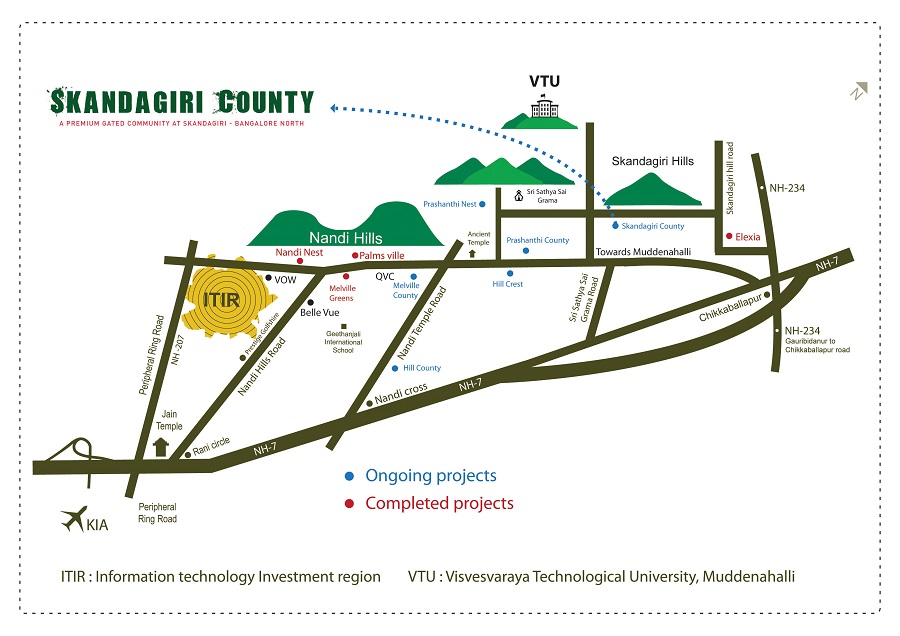 Well nest India Projects
At Wellnest, the aim is to provide our clientele, a lifestyle that is high on the luxury quotient as well as excellent opportunities to help them create wealth. We offer wide variety of Real Estate Products and Investment Services to choose from that are straightforward, simple, affordable and maximizing returns on investment.
Wellnest India Projects Pvt Ltd & VR Holdings was established by its Founder, Chairman & Managing Director, Mr. V. Chandrashekar in the year 2009, with a group of dynamic personalities who envisioned developing land properties in a way that respects the earth as well as the needs of its discerning customers.
Our commitment is to uphold the best practices in the industry and help our valued customers realize their dreams of owning beautiful and unique living spaces. Wellnest has the advantage of having experts in construction, design, architecture, engineering and legal affairs coming to provide holistic living solutions.
Wellnest has strongly expanded its presence in the high growth corridors of North and East of Bangalore focusing on areas around Nandi Hills and Hoskote regions in particular. These regions are rapidly emerging as one of the fastest developing Commercial and Residential Hubs of Bangalore, as the most preferred futuristic Destinations for Smart Investors and home owners.
For site visit and other details call 9845017139 / 080 – 42110448, Log on to http://propheadlines.com/