Puravankara developers have announced the Independence day offer today, Termed a the Independence Week, The offer and deals under this offer includes No Floor rise charges on the selected Projects Across India, The offer also has Exciting deals on Puravankara homes, The offer Starts from today 11th August 2018 and ending on 15th August 2018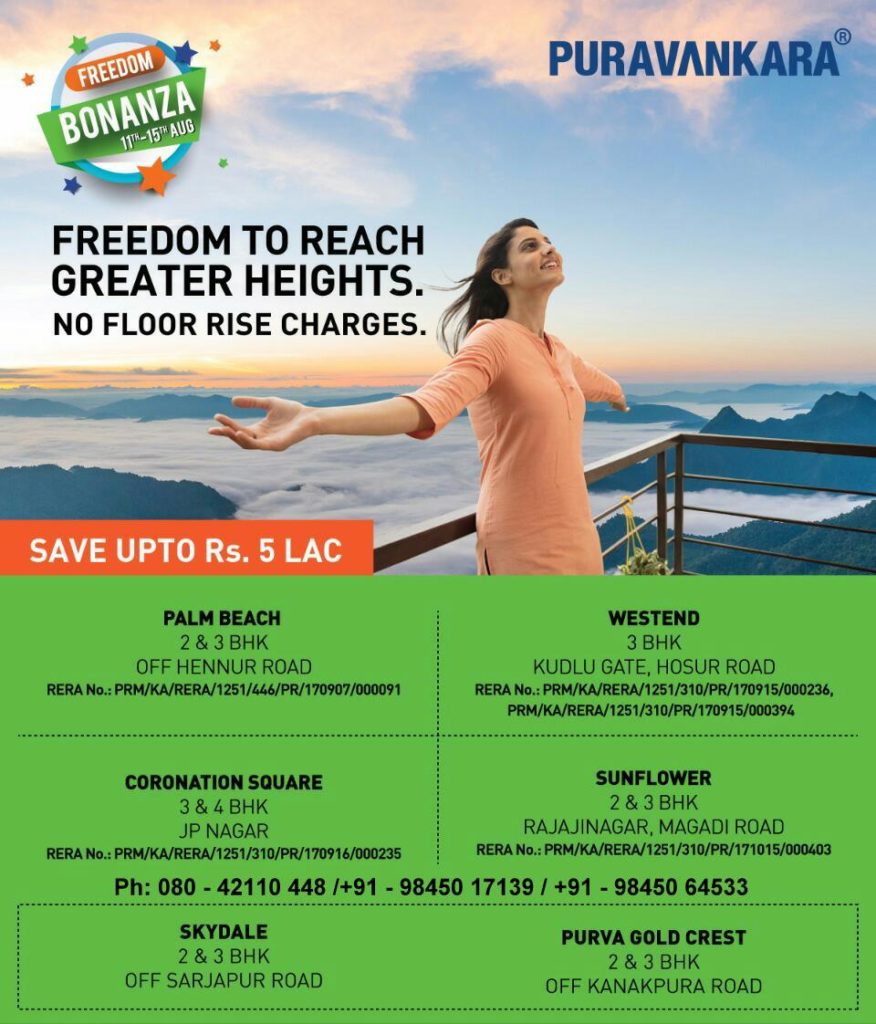 Projects of Puravankara in Bangalore 
North Bangalore 
a) Purva Palm Beach 
Purva Palmbeach apartments on Hennur Road are built along the lines of a tropical beach resort and spread over 19.37 acres. These new apartments for sale in Bangalore consist of a lagoon which promises to replicate the sight and sound of a beach in Bangalore.
It comprises of a Koi pond, Snorkelling zone, a well equipped gym, steam & sauna, a club theatre and many more to add the list. When you wish to buy 2/3 BHK flats, apartments in Bangalore, you would find Purvankara to be at the top of the list. These apartments located in north Bangalore is in a proximity to Manyata tech park, KIADB park, IT investment region and Devanahalli business park which makes it a good property investment in Bangalore.
East Bangalore 
a) Purva Skydale
Purva Skydale homes are an epitome of beauty and magnificence. These luxurious apartments at Sarjapur road transport you to the enchanting world of shimmering lakes and exquisite gardens, with romantic Juliet balconies and art-filled corridors.
Purva Skydale comprises of an experience of an enchanting world of shimmering lakes and exquisite gardens, romantic Juliet balconies and art-filled corridors. Fitted with all modern conveniences, these homes transcend the usual expectations of urban living and bring you magic in real life.
From gargling falls to stony brook to barbeque lawn to green meditative zones, vast stretches of landscaped greenery, two beautiful lakes outside the premises with endless stretches of greenery around, Purva Skydale has it all.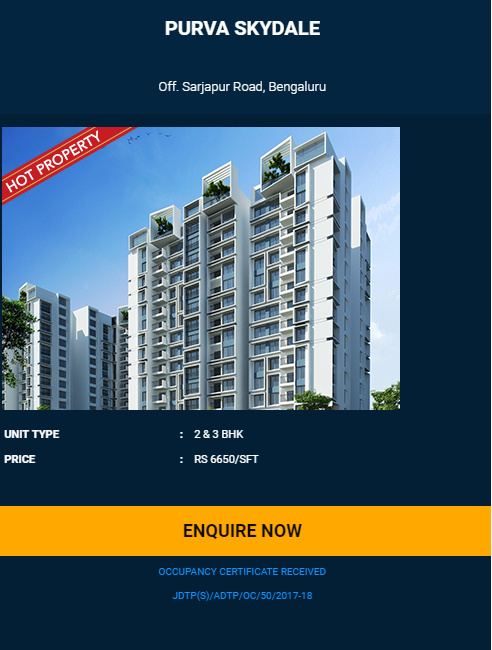 b) Purva Whitehall 
Purva Whitehall, on Sarjapura Main Road, Bangalore. Access 60% of Bangalore's IT Corridors in a jiffy. A 10 minutes drive away from Koramangala, this home is in close proximity to premium international schools and conveniences. Welcome to a world of ultimate luxury.
Loaded with amenities and strategically located, Purva Whitehall is an address only for the privileged few. Constructed with high-end specifications like laminated wooden/vitrified flooring in the master bedroom, marble/granite counter washbasins, the best open kitchens and plastic emulsion paints on its walls, Purva Whitehall with its 192 limited apartments is a reflection of your rich taste and successful life. Not only this, Purva Whitehall is also a perfect example of comfort with security. With arrangements like peripheral vigilance through CCTV, cameras and boom barriers and panic buttons in the master bedroom and dining area, we assure you a well-deserved luxurious, secure and pampered living.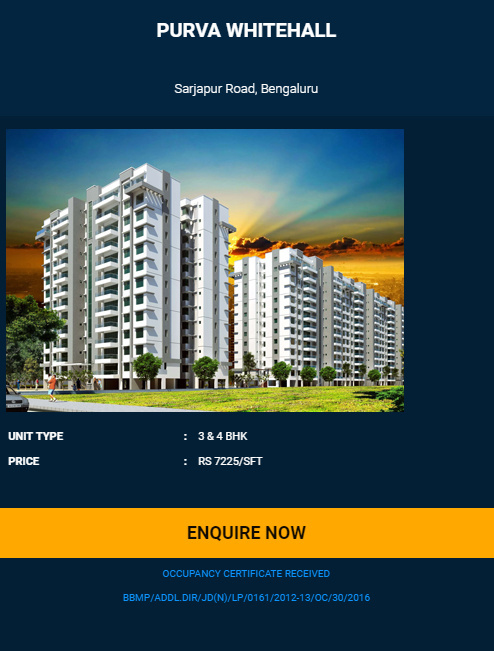 c) Purva Skywood
Set across 12.81 acres of pure serenity that transports your senses to a different world, Puravankara brings to you Purva Skywood. 728 aesthetically designed luxury apartments in Sarjapur Road with amenities that truly define class and seem like a dream, it truly does seem like a dream come true.
One step into Purva Skywood and your senses are bound to encompass you into an experience like never before. With 7 imposing towers that greet you from a distance these flats for sale in Sarjapur Road make living here seem surreal.
Each flat has been designed with great care and precession to make sure everyone who lives here gets to feel the breeze caress their face, their eyes soak into an entire spectrum of colours and also could listen to little birds perched high away on trees. Not just this, Purva Skywood flats in Sarjapur Road come with an array of choices for you; 2 BHK, 3 BHK and 4 BHK each flat customized to your taste and expectation.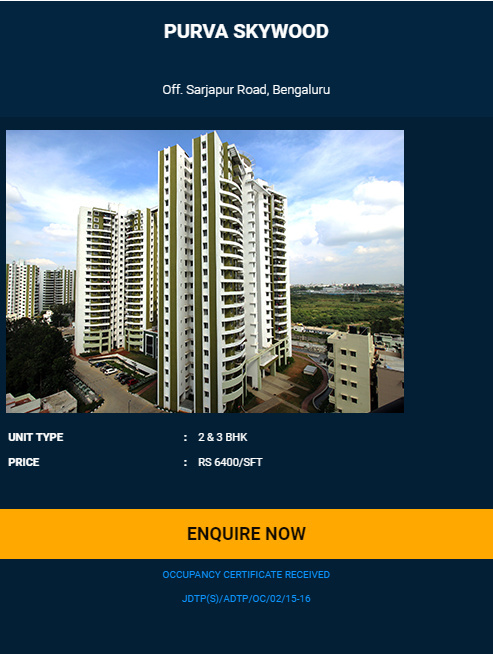 To Avail this offer Get in touch with us at
Contact : 080 – 42110 448 / 080 – 4212 4147 / 080 – 49598502
Mobile : +91 – 98450 17139 / +91 – 98450 64533 / +91 – 98450 44734
Stay Updated, Like our Facebook page https://www.facebook.com/propheadlines/
For Real Estate News India and United Arab Emirates, Log on to http://propheadlines.com