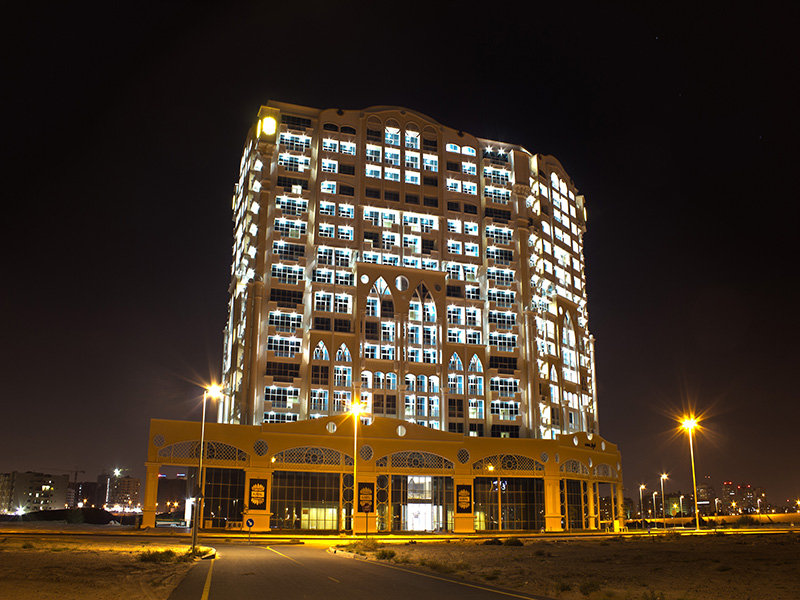 Open House event at Ajmal Sarah
Timings : 13th May Saturday, 10:00 am to 5:00 pm
Contact : 0561368274, log on to http://www.ajmalrealestate.com/
Ajmal Sarah
AJMAL Sarah Tower is an affordable luxury apartment building in Dubai land Residential Complex comprised of 274 apartments designed to the very highest international standard. With a signature style that echoes the architecture of the modern Arab world the building has been designed with the quality conscious, discerning homeowner in mind. AJMAL Sarah will stand out as a sanctuary of family entertainment, cultural diversity, and serenity.
Ajmal Sarah Tower offers 1,2,3 luxury Bedroom and Studio Apartments located Within Dubailand Development and Minutes from the world famous theme park Universal Studios.
Location
Sarah Tower is located in Dubai opposite to the popular Academic City, the place from where international universities and colleges & schools operate. It is also a kilometer away from the renowned Universal Studio theme park & the famous Outlet Mall. Sarah Tower has a prime frontage location with direct access from Al Ain Road, Outer Ring Road and Emirates Road. AJMAL Sarah Tower is just a 15 minutes drive from Downtown Dubai, 20 minutes drive to Dubai International Airport & 20 minutes drive to Mall of Emirates, Dubai Media & Internet City, New Jebel Ali Airport and also 30 minutes drive to Jebel Ali Free Zone
About Ajmal Developers
Ajmal has been known as one of the foremost and pioneering names in the field of perfumery, over the past 57 years. They have come to exemplify high quality standards, service delivery and trust among G.C.C. nationals in general and Emirates in particular. The word 'Ajmal' means 'most beautiful' in Arabic, and true to its name, the company has been responsible for some of the most popular and widely-adored fragrances among residents of the Gulf region.
In a bid to contribute and play a modest role in the property market in the Middle East, the Ajmal group cashed in on its local experience and expertise by launching Ajmal Real Estate. The company is being spearheaded by Mr. Mohammed Fakhruddin Ajmal, one of the founding members of Ajmal Perfumes.
The primary objective of this initiative has always been exceeding customer expectations through its dynamism, eco-friendliness and by conforming to ethical norms. The company is now a decade old, and has a stronghold on the Dubai and India markets.
According to Mr. Mohammed Fakhruddin Ajmal "The property boom is set to continue for a long time, where demand continues to surpass supply. In such a scenario, we aim to bring about a vast difference in the skyline as well as the lives of those who choose our properties. By not just meeting expectations, but exceeding them".